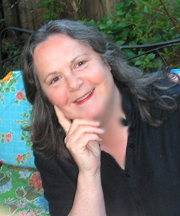 I'm Dr. Liz Margoshes, a licensed psychologist who has been in private practice in the East Village of Manhattan, New York City for over twenty-five years.

Prior to becoming a psychologist, I obtained a B.A. in music from Vassar College and a Bachelor of Music in music therapy from Michigan State University. I worked as a music therapist for several years before returning to school and obtaining my Ph.D. in clinical psychology from The New School for Social Research.

In 1996 I received a certificate in psychoanalytic group therapy from the Postgraduate Center for Mental Health.

Since the beginning of my career I've enjoyed working with creative people. In addition to the practice of psychotherapy, I've taught courses including "The Psychology of Creativity " and "Staying Creative" at the New School, N.Y.U., and Pace University. I created and hosted the "Dinner Theatre of the Mind" series of panel discussions on subjects including "Beauty" and "Consciousness" at HERE Performance Space, and "Downtown at the New School," a series of interviews with writers and performance artists such as Quentin Crisp, Mark Leyner, and Reno.

In addition to my career as a psychologist, I've always been engaged in an active writing and artistic life. In 1996 I wrote a column entitled "Kids' Diary" for the webzine Metrobeat, and from 1996-8 my advice column "Ask Dr. Lovelady" was published by the pioneering webzine word.com. I also write and perform original songs, and I'm currently working on my first novel.

I've recently written a self-help book entitled Finishing School: how to overcome work blocks to get your projects done and out into the world. If you'd like to learn more about the book, please go to finishingschool.org .